HANAHIRAKU is a composition of creamy, lactonic white florals, the fruity sweetness , a salty facet of miso and soy sauce, and dry animalic notes.
To create this mysterious scent, natural flower essential oils and absolutes such as jasmine abs ,magnolia,tuberose abs, ylang ylang ,chamomile blue, iris butter, rose essence were lavishly used.
It is not necessarily the case that if you use more natural ingredients, the perfume will smell better. There are limitations with natural perfumery. All-natural perfume does not allow the perfumer creative freedom and ends up smelling unpolished.
What's important is the proportion and the balance.
Natural ingredients can soften the sharp aspect of synthetics and make heavy Oriental perfumes lighter and more elegant. 
Each magnolia species has different characteristics but is all powerfully fragrant.
There are many varieties of Magnolia; Magnolia Kobus, Star Magnolia, Magnolia Liliiflora, Lily Magnolia, Banana Magnolia that smells like sweet bananas, Magnolia Grandiflora, Magnolia Sieboldii, Michelia Champaca, 
and the largest flower of all, Magnolia Obovata.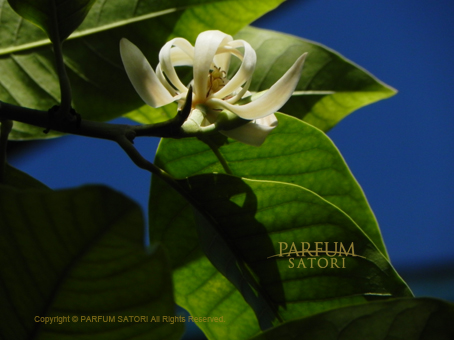 Magnolia Oil is used in HANAHIRAKU. The oil is extracted from the flower of Michelia ×alba (see the picture above). Michelia ×alba ,also known as the white champaca or white jade orchide tree, is a tall evergreen tree of the family Magnoliaceae.
Magnolia flower oil has a sweet, ripe berry-like scent.
There are few natural flower oils that have a fruity aspect.
A top note of ripe berry shifts into an herbal sage note. Berry and Sage may be an odd combination.
There is also a woody scent of caryophyllene.
In creating a white flower note, I needed to use more ingredients in order to add volume, a milky aspect and smoothness. HANAHIRAKU contains an abundance of jasmine abs.
And tuberose and ylang-ylang were also added to enhance the richness.
White floral fragrances have a summery tropical scent but in Japan, I'm sure they smell nicely on your skin from autumn to winter.